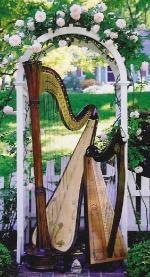 PRELUDE MUSIC. The prelude is a signal that the wedding is about to begin! About twenty minutes before the Bride enters and while guests are arriving the harpist plays a variety of pieces to set the tone for the service.

PROCESSIONAL FOR THE BRIDESMAIDS AND ATTENDANTS INCLUDING RING BEARERS. To create an elegant flow in the ceremony it is best for the harpist to play only one piece to accommodate all of the attendants.

PROCESSIONAL FOR THE BRIDE (BRIDAL ENTRANCE). Generally a stately piece with a steady tempo is played.

SPECIAL MUSIC (optional). A harp solo is often played as background music for some event in the ceremony, e.g. the lighting of a unity candle, the reading of a scripture or other meditative pause.

RECESSIONAL. A grand and joyous piece is played as the Bride, Groom and all of the attendants exit the area.

POSTLUDE. Five to ten minutes of music is played as guests exit the area.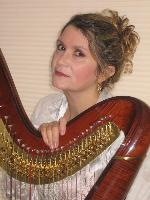 Bridesmaids' Processional - Pachelbel's Canon in D or Bach's Jesu, Joy of Man's Desiring or Handel's Largo or Vivaldi's Winter

Bridal Entrance - Handel's Wedding Hymn from Ptolemy or Pachelbel's Canon or Wagner's Here Comes the Bride or Purcell /or Clark's Trumpet Tune or Clark's The Prince of Denmark's March (a.k.a. Trumpet Voluntary)

Unity Candle or Meditative Pause during the Ceremony - Faure's Pavane or Gluck's Dance of the Blessed Spirits

Recessional - Clark's The Prince of Denmark's March (a.k.a. Trumpet Voluntary) or Mouret's Rondeau or Purcell or Clark's Trumpet Tune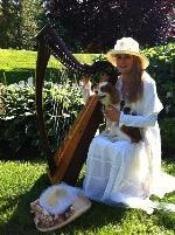 Bridesmaids' Processional - Playford's All in a Garden Green or Dalza's Paduana alla Venetiana

Meditative Pause- Robertson's Gratitude or Robertson's Bittersweet

Bridal Entrance - Handel's Wedding Hymn from Ptolemy or Handel's Air from the Water Music Suite or Handel's Lascia chi'io pianga (Let Me Cry)

Recessional -Negri's White Flowers or Cabot from the Rowallen Lute Book or Rameau's Minuet en Rondeau or Playford's All in a Garden Green